Welcome to
Brasserie De Bary
Our brasserie is based on the ground floor of De Bary at number 450. During office hours members and tenants are always welcome for a cup of coffee, lunch or to hang out.
Every weekday a lunch buffet is prepared with sandwiches, salads and soup. All with fresh ingredients. Of course we also offer an à la carte menu, that changes every season.
At the brasserie we strive to make you feel at home and to re-energize you.
The brasserie has a separate bar and seats up to 70 people. It is open all day for breakfast, coffee, tea, a warm lunch, salads, sandwiches and dinner. It can also be booked for private dining and other events.
Our chef Pascal van der Heiden is a very experienced chef with a passion for modern European cooking. All of the ingredients are bought fresh from the local biomarket on a daily basis. Breakfast, warm or cold lunch(buffet), sandwiches, small bites served at the Bar or a three to five course candlelight diner: he gladly takes care of your wishes.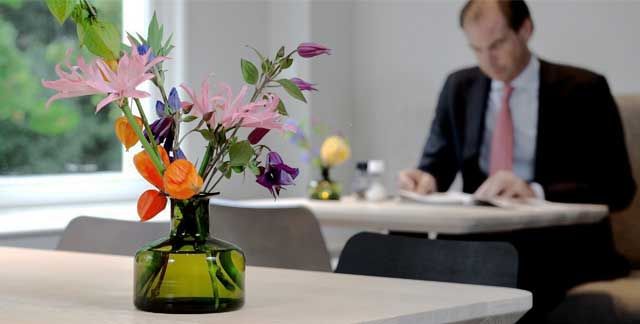 Take-away
If you are in a hurry or wish to enjoy the garden during lunch break, you can also pick up a takeaway meal. And to make your life even more convenient: you can order evening meals freshly made by our chef to take home with you.
Room service
Do you prefer to have your lunch or snacks delivered to your desk or meeting room, just contact the brasserie and let us know your wishes.
Socialize
De Bary organises all kinds of social and network events on a regular base, for tenants and members or third parties. Borrels, lectures, presentations, diners… almost anything is possible.